€20k House for Sale in France  –  Lescouët–Gouarec, 22 Cotes d'Armor, #Brittany – to restore -and you're getting two houses for less than the price of one! Winning! However, this is a serious renovation project, but it could easily become your modest 'Gites in France' dream come true!
With bags of charm & character for days, you'll also need a bag or two of cash to get this one rolling. However, you can restore 1 side first, then work on the other. This could certainly be an excellent starter home for those with a few buckets of both cash and tools, and could soon be a super nice vacation home in France, or even your 'retire in France' plan.
The upside is the new roof over both houses, and some interior work already started; it's already connected to mains drains, so it's off to a good start.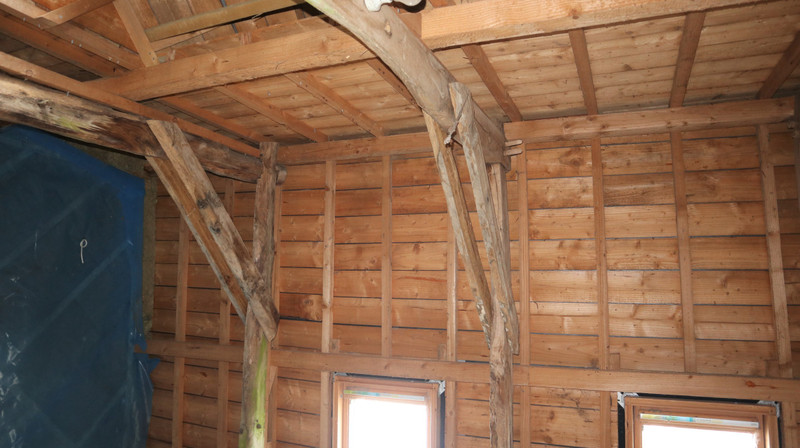 The original beams & stones are simply gorgeous, if you look beyond the invading plant life & weather and see the stone floors & thick stone walls.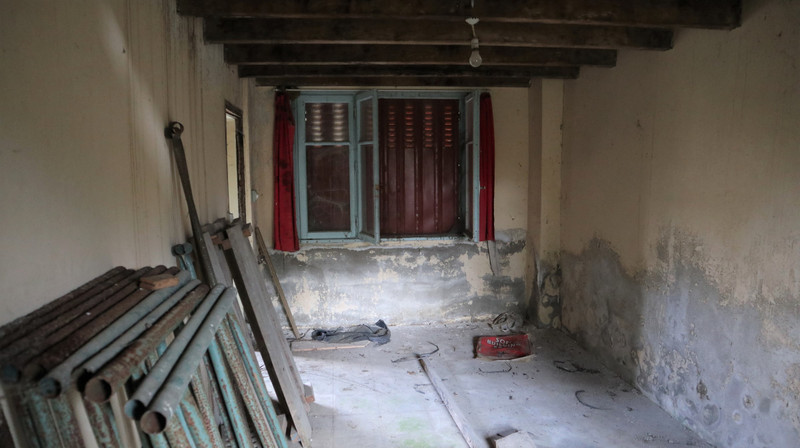 Each house has about 33m² of ground floor space and big fireplaces.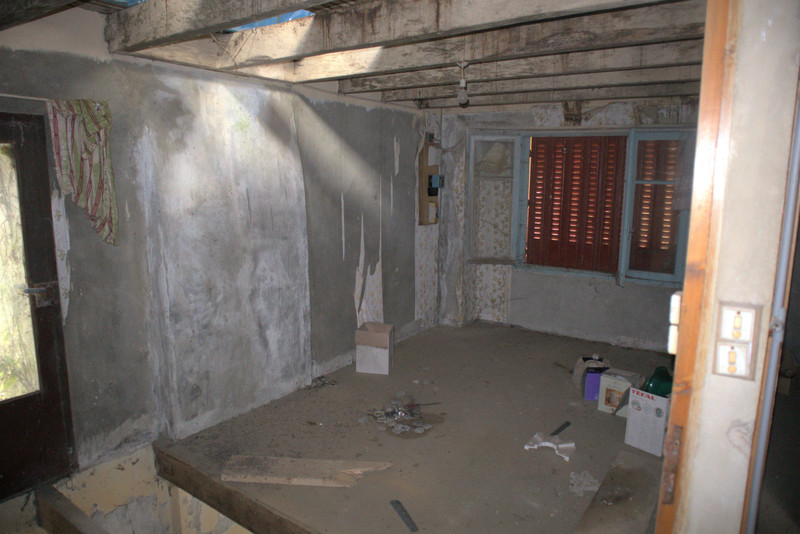 the right hand property has two further floors,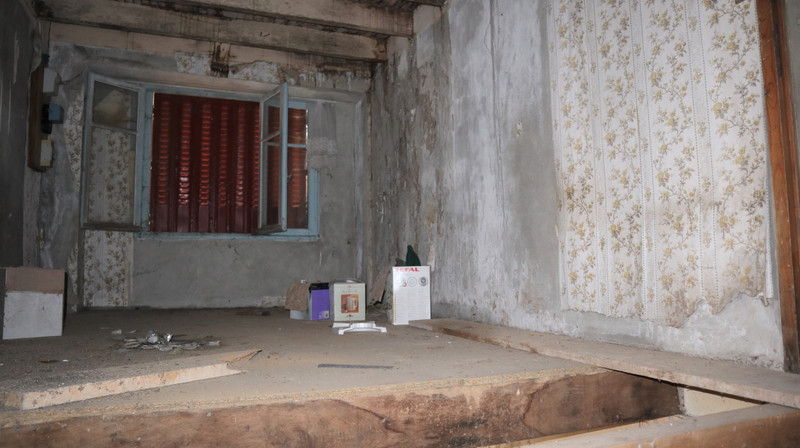 the left side needs its floors replacing.
There is a further plot of land with the properties of 463m²  situated on the edge of the village and you should enquire with the estate agency (details at the end of the post) for those details.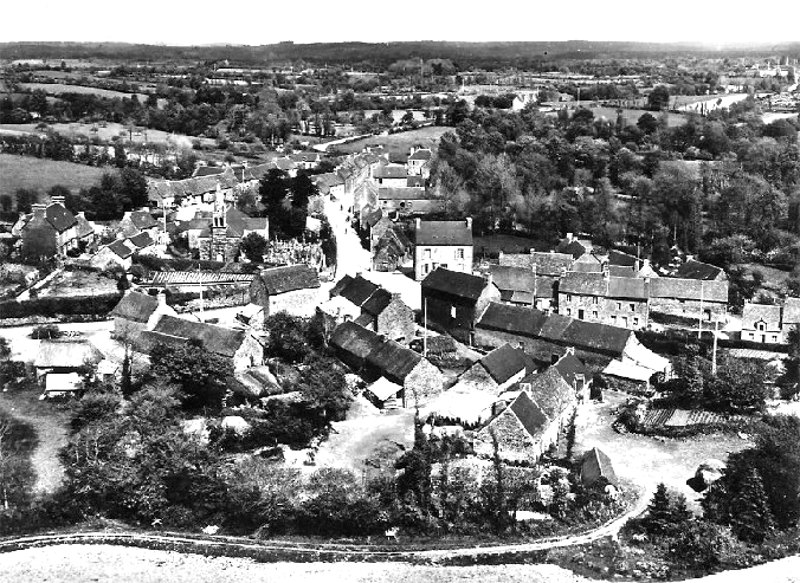 Much history has passed through this humble hamlet since 833 even, but not leaving much trace of itself behind in the obvious places. Manoirs have fallen into now-turned fields, castles are buried, plagues devastated the region for a century and taxation did the area no favors.
Today it is a small hamlet of just 300 people, with modest, but very pretty, well kept homes and… cows. There are lots of cows.
Lescouet-Gouarec is midway between north and south Brittany coasts, and midway between Brest in the west and Rennes in the east. And, you're in luck, because there happens to be a proper, well reputed Irish Pub, Ti Devine's nearby! It has a great menu, so check it out!
The location is ideally situated for those who wish to tour the region by car. For those who are travelling by bike, it's in the vicinity of the Nantes – Brest canal, about 12 km from Gouarec and 10 km from the Pont-Even lock at Plelauff. For walkers, there are many country and woodland walks available. For those who are interested in fishing or boating, it's about 5 km from the lake at Langoelan (L'Etang du Dordu)
and, 15 km from the lake at Pont Samuel (Silfiac) and 18 km from the lake at Glomel (Etang du Coronc). The Lac de Guerledan is about 20 km away (L'Anse de Sordain). For those interested in history, there are two churches in the village and other chapels nearby. The Gallo-Roman quarry at Locuon is about 8 km away. Further afield are Les Forges des Salles (15 km) and L'Abbaye de Bon Repos (17 km).
How easy is it to buy property in France as a foreigner?
Check out our article on 'how to buy property in France as a foreigner", for more information. There are currently no restrictions on foreigners buying property in France, however, you may find the process a bit more difficult as a non-resident. This is France, and that means a lot of paperwork and due diligence.
If you're working with a real estate agent, the process is likely to be relatively straightforward. But you'll still need to make sure you read up on what taxes you'll need to pay, and any visas needed so you can live in your new French home once you've bought it. Thankfully, in this digital & social networking age, you can prepare yourselves in advance with the wonderful, thorough and diverse social media groups & websites that now exist and are proliferating on the web. 
To get a head start on the details of moving to, living and buying a property in France, be sure to check out our page with many helpful links to websites & Facebook pages dedicated to precisely those topics. 
Whether you're seeking knowledge & info about literally, how to buy a property in France, or you need to know about taxation, or you're needing information on securing & using your Carte Vitale, we've got the links, so check them out.
Buying property in France after Brexit
Even though the UK has now officially left the EU, as a UK citizen, you'll still have the right to buy property in France as a non-EU citizen. You can even rent it out if you want to.
However, you will now need to make sure you have a long-stay visa if you plan to stay in France for more than 90 days at a time.
Can I buy property in France and get residency?
Unlike some other countries, France doesn't have a 'Golden Visa' or other investment scheme for property purchases. This means that for UK citizens post-Brexit, although there aren't restrictions on foreigners buying property, you'll now need to go through the same process as any other non-EU citizen to get a visa to live in France – and then to apply for permanent residency if you're eligible.
Ready to Buy that Dream Home for sale in France? It's all about the money, money, money…
Check out our links for general information on mortgages & insurance, and don't forget that you'll have to move your money between countries. 
For the consistently best rates & lowest transfer fees, we highly recommend Wise (formerly known as TransferWise) to move your funds safely & efficiently across borders.
Millions of happy customers can't be wrong! Have a look at their excellent rates & wide range of services for banking and moving your money abroad so you can securely & confidently buy that property or dream house you've been looking for!

Here is the link to the agency listing with more information, photos & contact details. We always recommend calling, not emailing, until you reach someone directly.