€274k For this beautifully restored Former Presbytery – House For Sale in France – Lassay les Chateaux 53, overlooking its own private lake, in a pastoral & idyllic setting… How perfect is this for your 'retire in France' dream? It gets better; there's plenty of room for your 'gites in France' income earner as well!
For your perfect holiday home in France to entertain loads of friends & family, this stunning home is reduced from €319k. This stunning property for sale in France, this maison à vendre en france, has 5-6 bedrooms in the main house, with the attached outbuildings just waiting to create an office, a creative studio, a commercial space (with permissions) or to convert for your extended family visits – or that gites, to welcome guests. The potential here is superb and broad, limited only by your needs & dreams. And it's big…. how big, you may ask?

How does the living space of 258 M2 sound? set on a plot of 6888 M 2 and…. did we mention that lake? Your very own lake? Get a little rowboat, swan around on hot summer days…. throw the line off the balcony for a fat trout for lunch?
We think this is just a lovely property for sale in France, nestled in a hamlet, and a fantastic opportunity for a lot of space, in a great location, near a lovely town at a great price.
Lassay les Chateaux
is just 5 minutes drive into town, and has all the amenities one wants, including schools, doctors, shops & restaurants. The channel ferry ports of Caen and Le Havre are both within 2 hours drive & get this, Paris is just 3 hours away, so it's a perfect weekend getaway for those working in Paris, isn't it?
There are extensive gardens to the rear bordered by a stone wall on two sides. The garden is well stocked with fruit trees and a productive vegetable garden and soft fruit bushes. The lake is well stocked with carp and
there's a koi shop in town…. hmmmmm…..
The sweeping driveway presents the front of the house very gracefully with a rather grand entry befitting a house this size. There's another door to the side that opens into the sitting room, which would be convenient if you set up an enterprise needing a separate entrance.
The entry hall leads to the large formal lounge with loads of original features including marble fireplace, oak panelling and wide oak floorboards, all in excellent condition. It's light, bright & sunny with French doors opening onto the back garden (looks like all double glazed as well).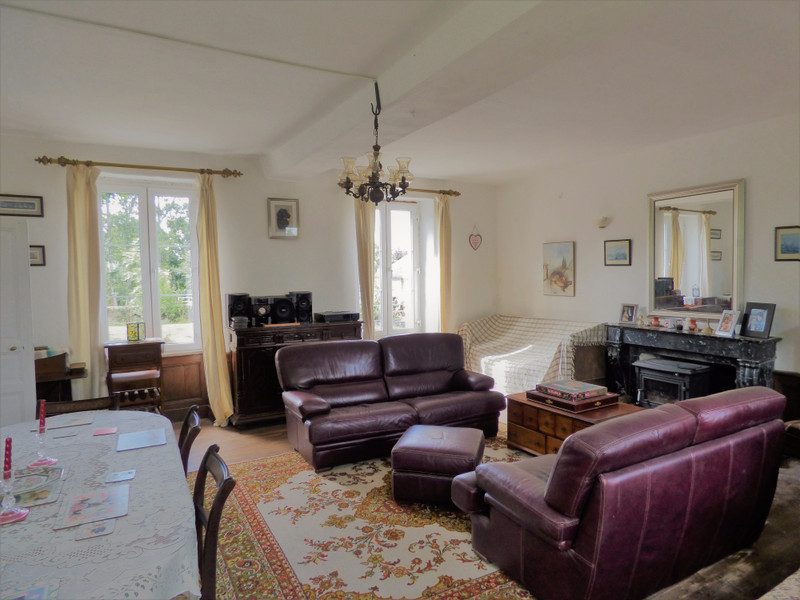 From the hallway in the other direction you enter another reception room, currently used as an office, then the sitting room which has original quarry tiled floor, and beautifully plastered walls.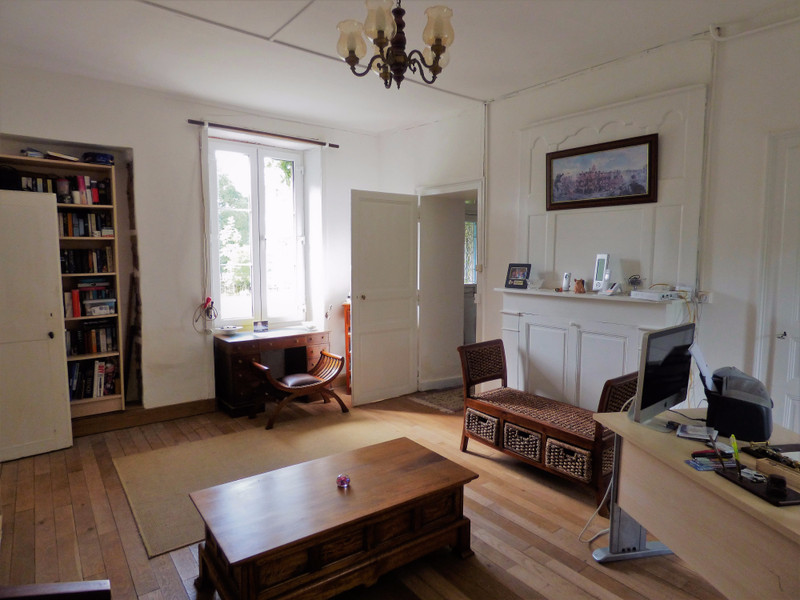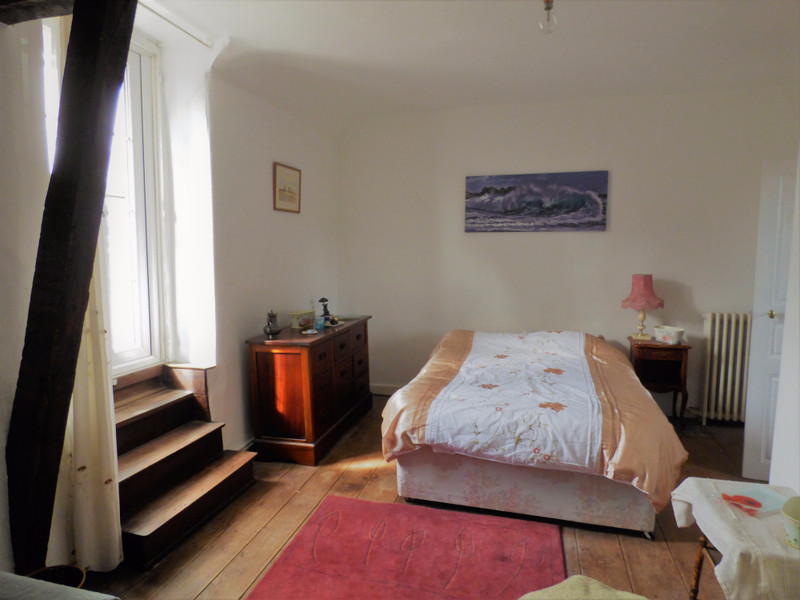 There is a double sided wood-burner in the fireplace which also serves the kitchen.
The kitchen features a nice amount of cabinet space & counters, plenty of room to host a hoard, a nice range cooker and marble worktops and there's a second back staircase leading up from the kitchen.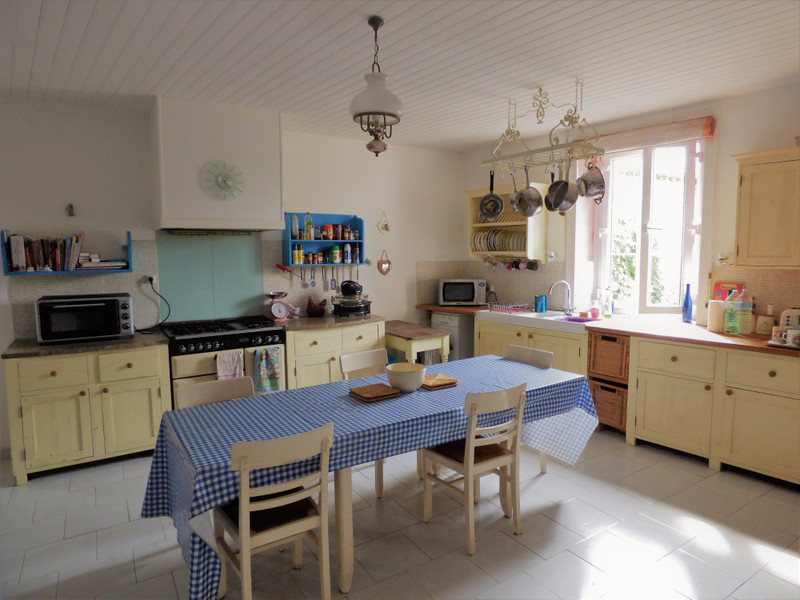 From the hallway the main staircase goes up to a split level landing and two double bedrooms each having an anteroom for dressing and / or the potential for en-suite bathrooms. The landing there hosts the shower room which also has access from a bedroom, and there is another good sized light & airy double bedrooms with lovely views.
The 3 bedrooms in this wing atop the lounge below lounge below, would make great letting rooms for chambre d'hote, with some modifications.
The landing, with ample storage cupboards, leads along to the master suite with its ante room and another master bedroom with exposed beams, closet storage and a bathroom. The landing continues on to another double bedroom that makes five!) with
its
en-suite bathroom, then further on to bedroom six, which is a single bedroom, and finally the back stairs leading down to the kitchen. All the double bedrooms benefit from having balconied, full height windows.
A covered walkway joins the main house to the barn which has a joint kitchen and dining room with fitted appliances and French doors onto a balcony which overlooks the lake.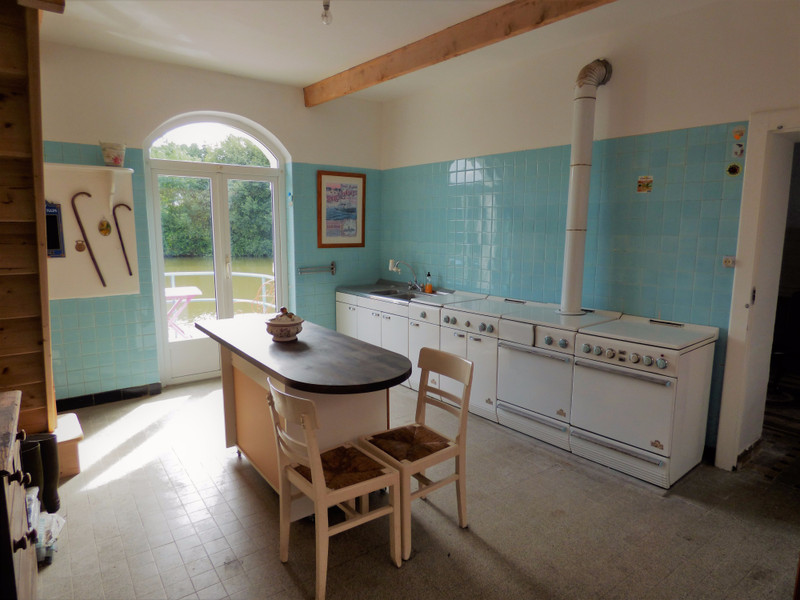 There is also a laundry and utility room, which could be used as a living room, with separate wc. Stairs lead up from the kitchen to the first floor with three rooms with Velux roof windows for potential bedrooms and a potential bathroom –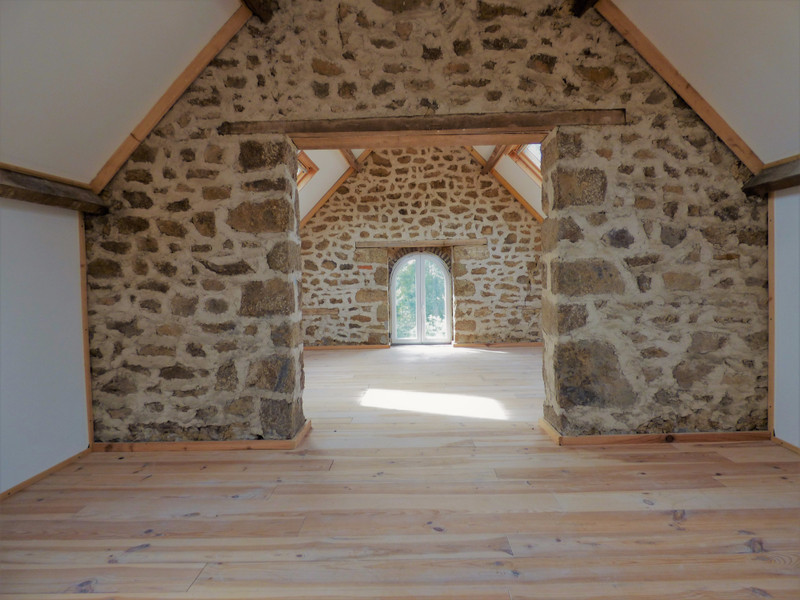 All the main works have been done so it would be a simple job to make this a very attractive gite.
There is also a large hobby room with glass frontage and double doors and stable for storage. There are extensive gardens to the rear which are bordered by a stone wall on two sides and the property's own lake on the third.
Lassay les Chateaux  Laval is a lively town with many fetes & associations, and it's quite a popular tourist center with a number of historically interesting monuments & buildings.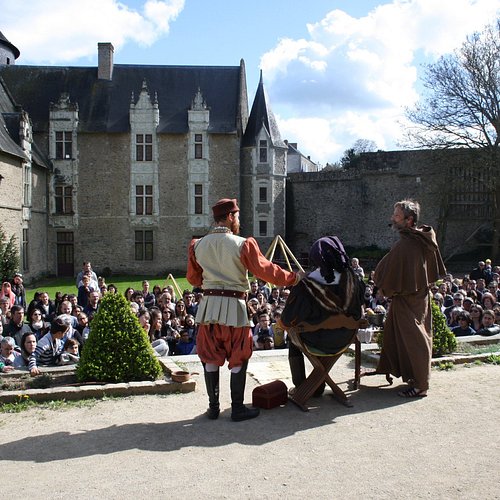 How easy is it to buy property in France as a foreigner?
Check out our article on 'how to buy property in France as a foreigner", for more information. There are currently no restrictions on foreigners buying a house for sale in France, however, you may find the process a bit more difficult as a non-resident. This is France, and that means a lot of paperwork and due diligence.
If you're working with a real estate agent, the process is likely to be relatively straightforward. But you'll still need to make sure you read up on what taxes you'll need to pay, and any visas needed so you can live in your new French home once you've bought it. Thankfully, in this digital & social networking age, you can prepare yourselves in advance with the wonderful, thorough and diverse social media groups & websites that now exist and are proliferating on the web. 
To get a head start on the details of moving to, living and buying a property in France, be sure to check out our page with many helpful links to websites & Facebook pages dedicated to precisely those topics. 
Whether you're seeking knowledge & info about literally, how to buy a property in France, or you need to know about taxation, or you're needing information on securing & using your Carte Vitale, we've got the links, so check them out.
Buying property in France after Brexit
Even though the UK has now officially left the EU, as a UK citizen, you'll still have the right to buy property in France as a non-EU citizen. You can even rent it out if you want to.
However, you will now need to make sure you have a long-stay visa if you plan to stay in France for more than 90 days at a time.  Be sure to check out our page of links, information & resources on Living in France, Moving to France, and Information about France, for several Facebook Groups that specialize in the Visa Process for France. 
Can I buy property in France and get residency?
Unlike some other countries, France doesn't have a 'Golden Visa' or other investment scheme for property purchases. This means that for UK citizens post-Brexit, although there aren't restrictions on foreigners buying property, you'll now need to go through the same process as any other non-EU citizen to get a visa to live in France – and then to apply for permanent residency if you're eligible. As a national from any other country outside the EU, the process for your big 'let's move to France!' idea can begin by, again, checking our Information & Resources in France page.
Ready to Buy that Dream Home for sale in France? It's all about the money, money, money…
Have a look at our links for general information on mortgages in France & insurance in France, and don't forget that you'll have to move your money between countries. 
For the consistently best rates & lowest transfer fees, we highly recommend Wise (formerly known as TransferWise) to move your funds safely & efficiently across borders.
Millions of happy customers can't be wrong! Have a look at their excellent rates & wide range of services for banking and moving your money abroad so you can securely & confidently buy that property or dream house you've been looking for!

Here is the link to the agency listing with more information, photos & contact details. We always recommend calling, not emailing, until you reach someone directly.