€36k for this Gites in France property in Gers, Swiss Normandy! Less than an hour from Caen with ferry service from Portsmouth! #Brexit is coming, isn't it?
A private seller is offering this 2 adjacent stone village houses property on mains water, with electricity of course, AND a separate stone barn! And– wait for it– there is a lovely garden in the back, just begging for your green thumb!
Is this your 'retire in France' dream? You can run your 'gites in France' project easily, and/or have your vacation home in #France dream come true with this property.
It can remain as 2 separate dwellings or become one large 4 bedroom house. LOTS of great options here at an outstanding price.
The roofs and buildings are in general good order and 1 house is now renovated with 2 bedrooms, upstairs WC, lounge with attractive fireplace, kitchen, shower room and an internal garage which could become a kitchen/ diner.
The second house requires internal modernisation. It has a lounge, kitchen, large bright bedroom, space for a large upstairs bathroom and a big attic with attractive beams and floor which will make another good bedroom.
The barn (12x4m) has lovely original stone walls and already has an upstairs room, previously used as a bedroom. You can easily convert this into a pretty gite & it also offers good storage.
Transport is easy, being in the centre of a small village with good roads and just a mile from the new dual carriageway to the large town of Flers, 15 minutes away, with major supermarkets and services.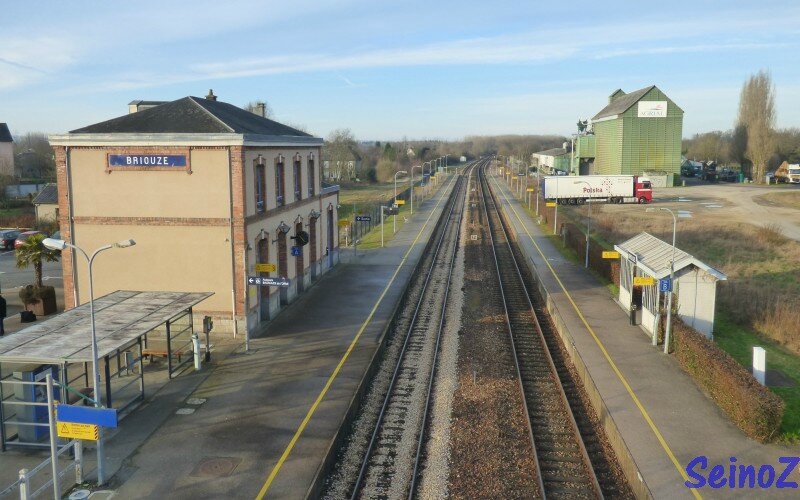 Just a 5 minute drive away is the small town of Briouze with railway station, several bars, bakeries, 2 supermarkets, and a Monday market.
Briouze is a country of fairs and markets for more than 1000 years.
Its great St. Catherine Fair in November, the Rogations in the spring and its market for calves on Monday make it famous.
Also at Briouze, is the Marshland of the Grand Haze which extends over 200 hectares. The great diversity of natural environments includes ponds, peat bogs, reed beds, peaty wood… and fills this region with stories and legends.
Herein lies a distinct micro-climate chock full of unique fauna and flora, and sometimes very rare carnivorous plants & water birds…
The astonishing Camargue horses and Scottish cattle are responsible for the maintenance of the marsh.
As a fragile place, classified Natura 2000, it can be visited only in the presence of a guide. However, it is possible to walk along the Val du Breuil stream all year round and to go to the observatory to observe the birds and aquatic animals.
Take note that the seller is also offering, for just €16k, the TWO barns adjoining the garden with views over the valley!
Soon to be available is also a large former farmhouse with a further considerable potential gite complex (more details on request from the seller).
There are already 2 Gites de France in the village, should you wish to stay and explore the area. To simplify the transaction the seller offers an English speaking Notaire;  a local bank contact with an English bank manager — and you should be thrilled that the seller notes that one of the ladies at the village Mairie speaks good English. The seller prefers to keep the price low by selling privately. If you wish, you can use a local English estate agent, but this would add about 5,000 euros, which in France is payable by the buyer.
This is a serious find, definitely get in touch with the seller by clicking here!