€39k Village House For Sale in Tuscany — Boccheggiano, 1.5 hours to Florence, in a lovely medieval village. If you're thinking about #MovetoItaly & #ristrutturazionecasa projects, this could be your new vacation home in Italy!
Ok, so this doesn't look like the prettiest house in the Village, but… look again. It needs a serious blast with the pressure washer & a touch of elbow grease, paint, flower pots & imagination to bring it all to life. So yeah, it's probably not your luxury vacation home in Italy, but could it be your 'retire in Italy' dream come true? We think so, check it out!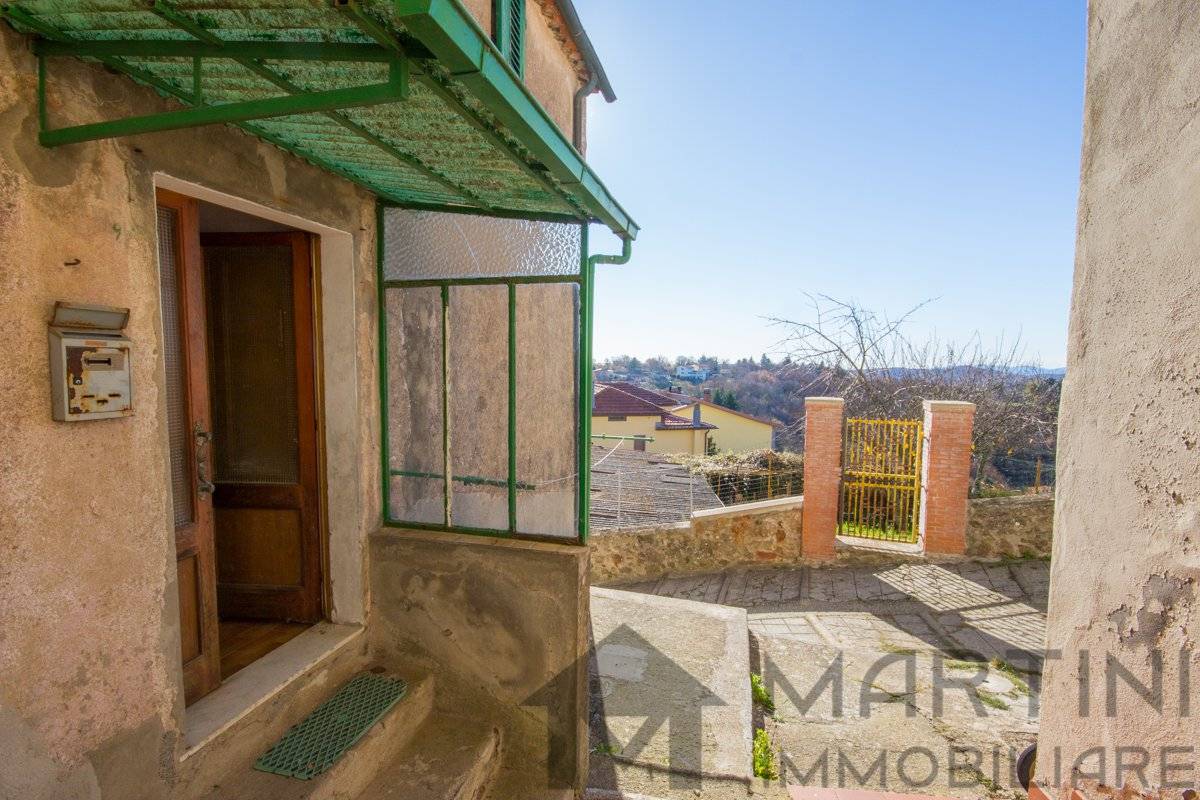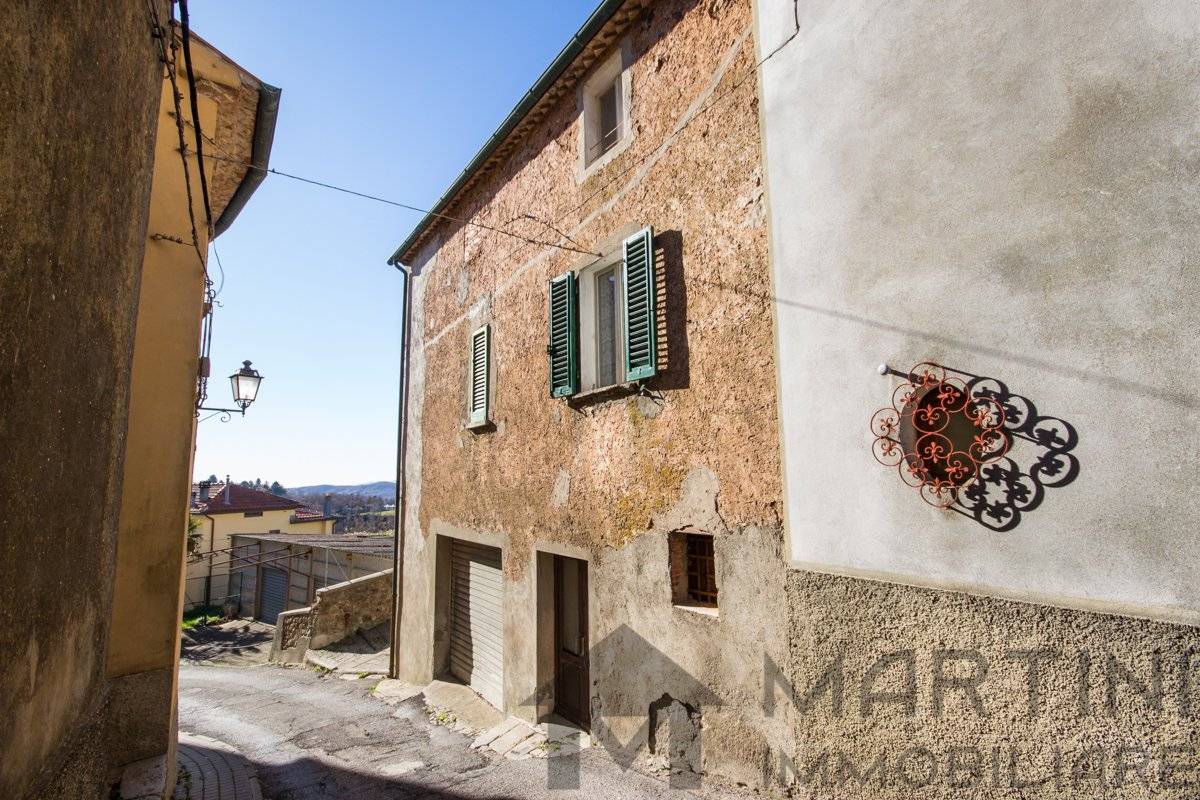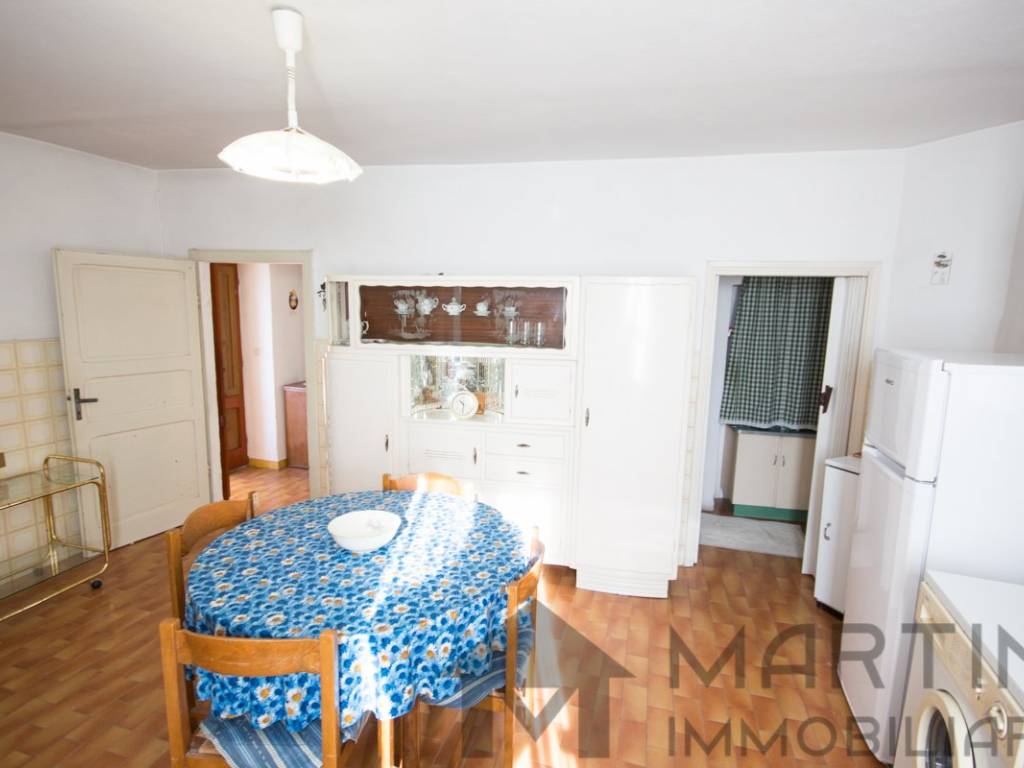 First off, it's 120m² & says it has 2 bedrooms & 2 bathrooms, parking for 2 cars & habitable on 2 levels sitting atop the ground level with its own garage & cave.
We think there's a lot of bonuses there, just to start with. Huge kitchen (by Italian village house standards), nice, light & bright.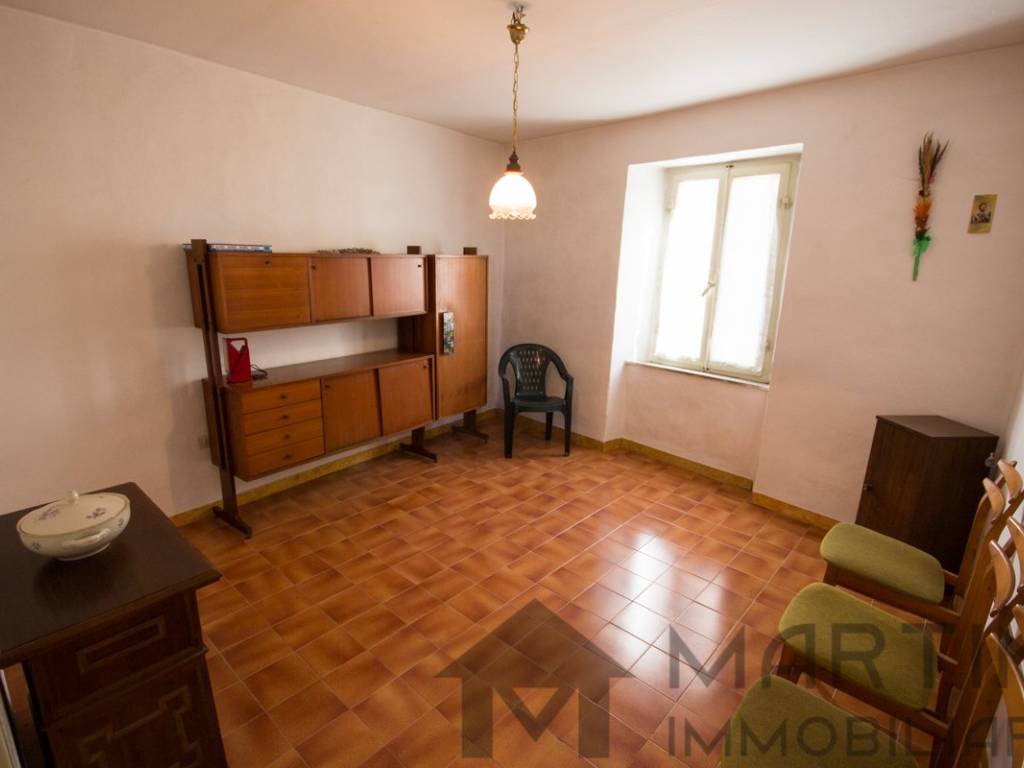 It's over several levels with views of the village & the hillsides. Many bright, wide windows (that probably need replacing at some point, to be fair), the upper floor has charming white painted beamed ceilings & there's tile floors throughout. It's entirely possible there is chestnut flooring under there, but that's probably wishful thinking, to be honest. There's a lot of decent stuff going on here.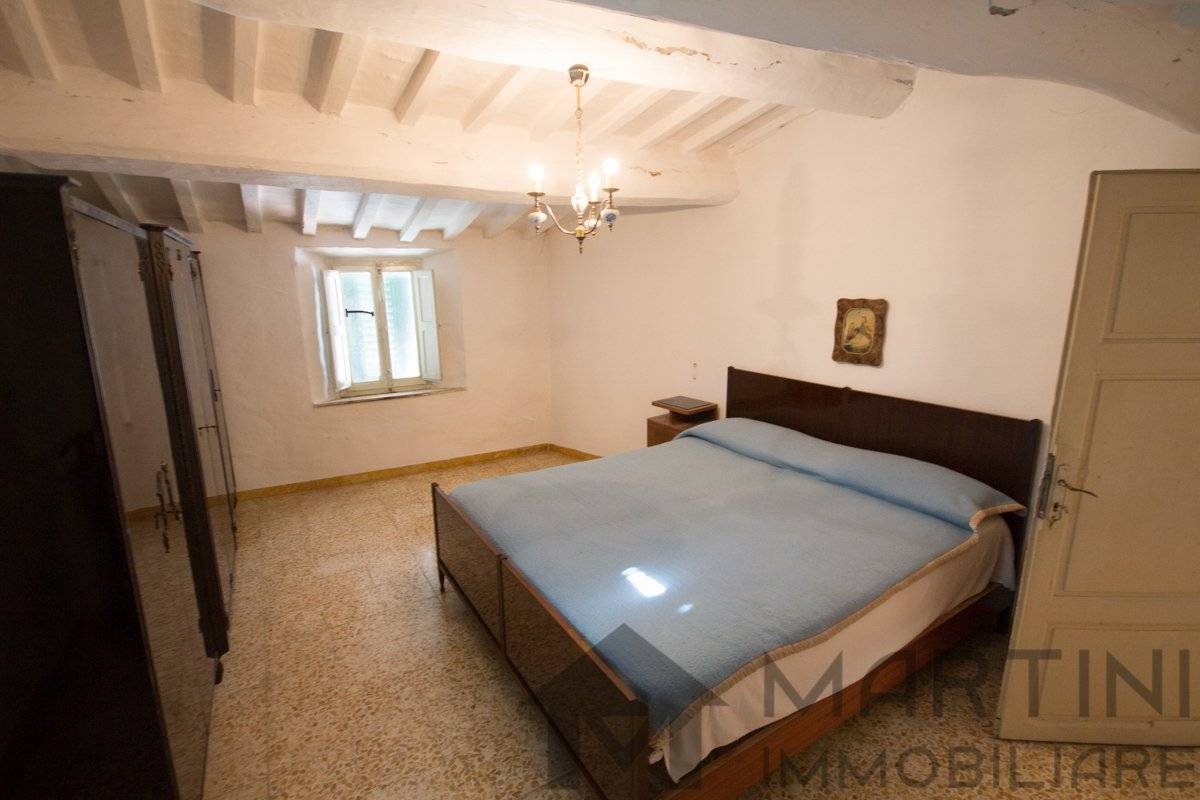 The bedrooms are good sized & nice & light & bright. Love the windows…. as always, the décor is perhaps not of the high market, but we've seen far worse & there's not a cow in the cellar in sight.
The 2 bathrooms are a real rarity in these older Italian homes, suggesting relatively recent renovations.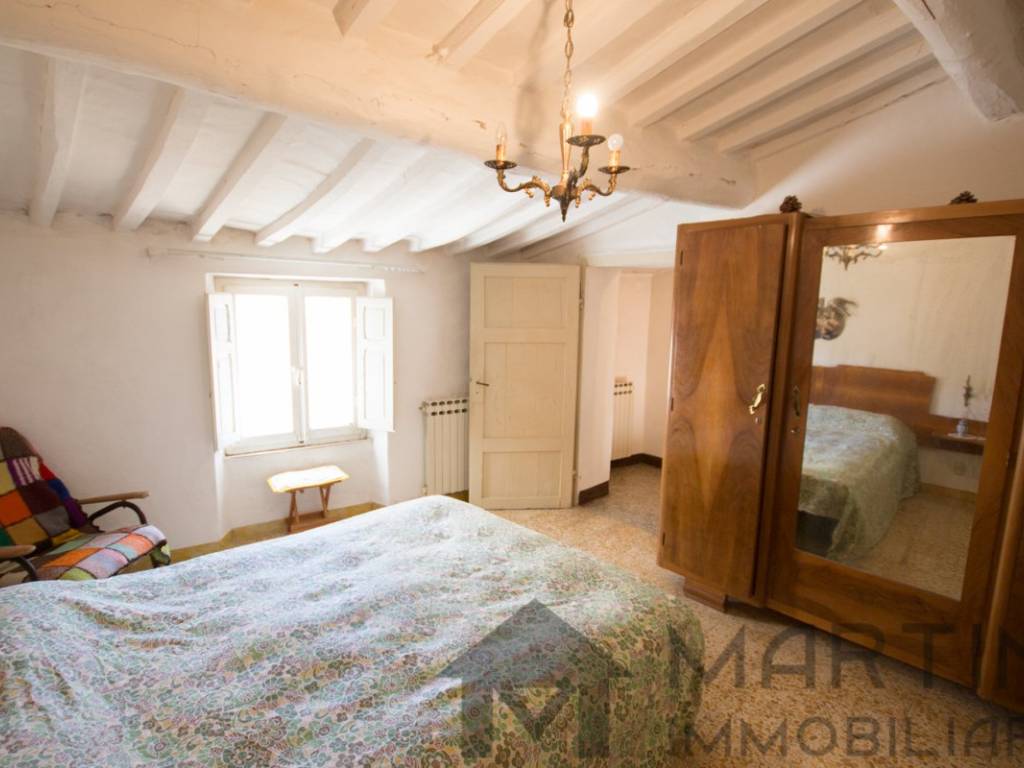 It's certainly habitable while you get on with your decorating & improvements & wouldn't be a great expense to change the aesthetic here at all.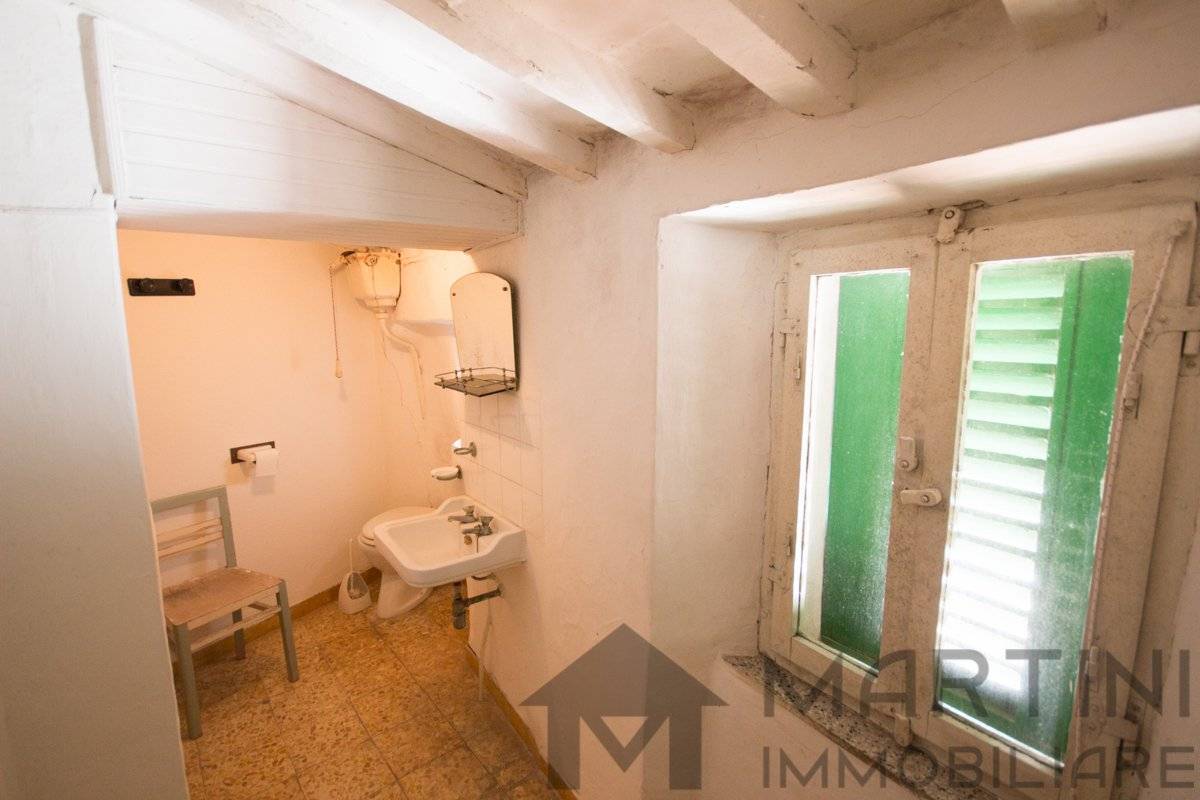 Granted the one bathroom is quite rustic, but it sure could be charming with new fittings & tile work; we'd find a way to make that a wet room so there's two showers in the house.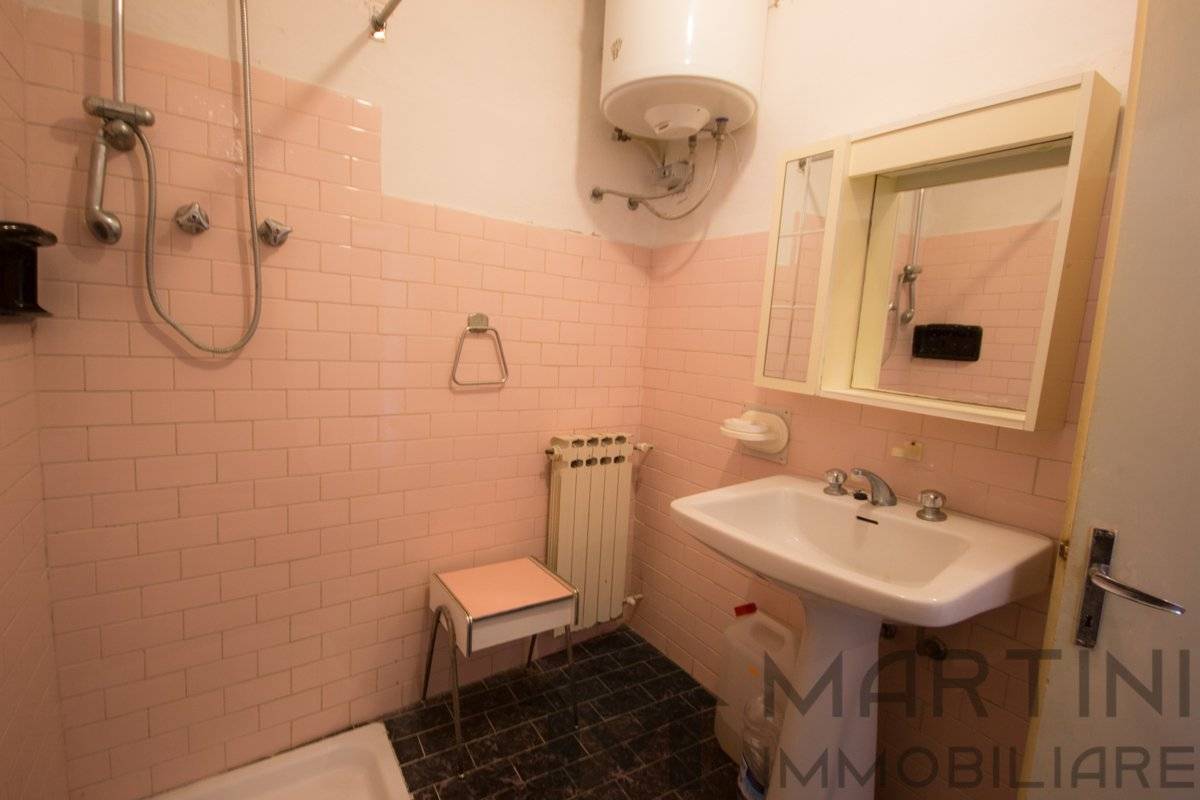 The other one is quite respectable, we wouldn't be scared to use it!
The exteriors look good & as we said, it can benefit from a good scrub & pressure washing, a nice clean paint job & we'd add bright shutters and flower boxes galore.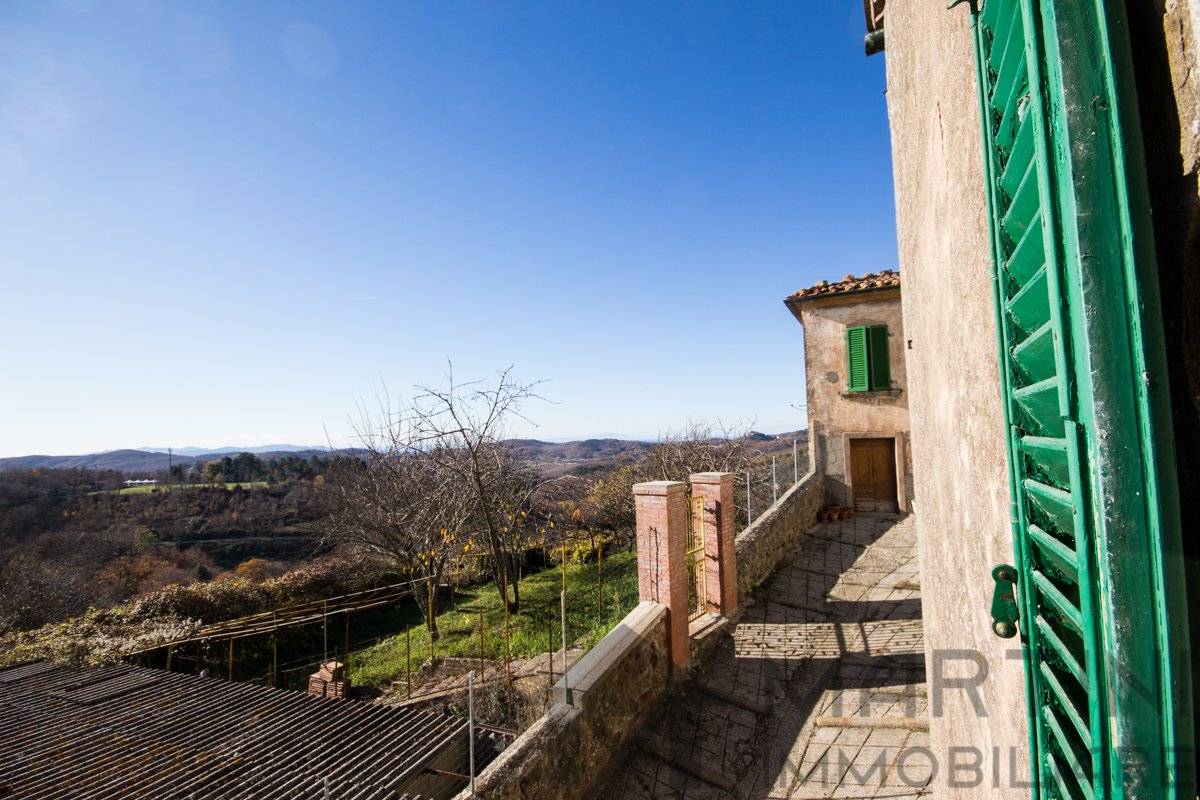 Can't have an Italian house without flower boxes, now, can you?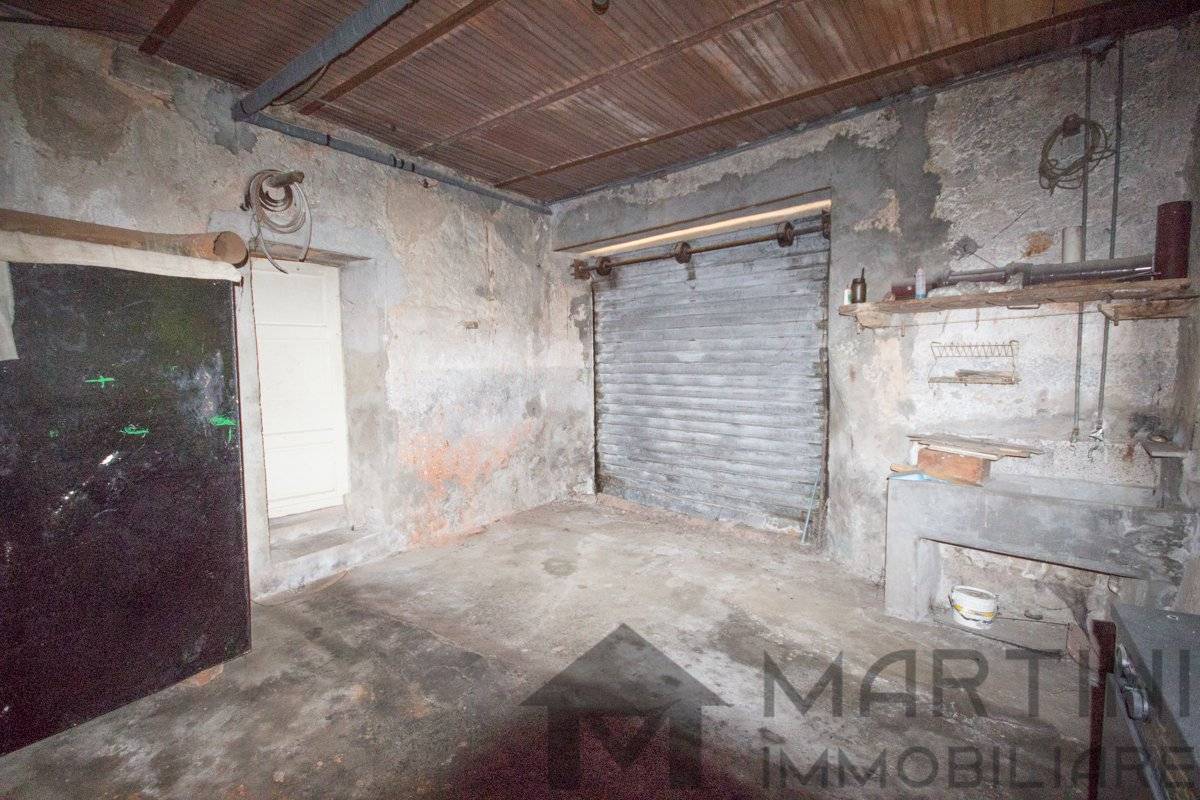 The garage space is awesome (if you're into that sort of thing, don't even get me started) & there are a number of niches, nooks & tiny spaces for storage, making this a super 'lock up n leave' proposition for your vacation home in Italy. This could certainly work great as a holiday rental proposition, you know we're a big fan of that. There's a number of agriturisme & holiday rental in Italy operations going on & given the lovely village location, could be a nice little earner as 2 beds, entire apartment are getting up to €100 per night in the area.
The unique heart-shaped town of Boccheggiano  in the heart of the 'Metalliferous hills' has wonderful views over the Tuscan landscape & speaks to the ancient mining heritage of the region. Mining is no longer as big of an activity as it once was, and has been replaced by wine & olives & chestnuts are the primary agricultural activities, with numerous active & popular Agriturismo; bed & breakfast & family hotels close by. The area is popular with families & tourists seeking tranquility & peace far from the madding crowds, looking for a true Tuscan experience.
Known as the land of 1900 Mines, a few mines still produces
Aragonite,
purported to have healing properties, & is very collectible, pretty & aesthetic & has unique astonishing fluorescence in specific lighting. Specimens from Italian mines sell for many thousands of dollars…
Of course Tuscany is known for its verdant & dynamic landscapes, its ancient history, artistic legacies & its timeless influence on high culture.
As the birthplace of the Italian Renaissance it is home since time began to many figures influential in the history of art and science & is the home of well-known museums such as the  Uffizi, the Galileo & the Pitti Palace.
At the heart of Tuscany is Florence, around which it seems all things great & glorious revolve, like the planets to the sun. Art, music, literature, textiles, marble, architecture, jewelry, wine, phenomenal food; thousand year old villages, historic dynastic families reaching back countless generations into history, such as the Medici, Corsini & Donati, not to mention the spectacular cities such as Siena, Lucca & Pisa… all worthy to note, to enjoy, to revel in, to live, to visit & to appreciate.
Some of the first questions you should have as you go about your search for that perfect vacation home in Italy should involve mortgages  & insurance.
As you think about your 'retire in Italy' dream home, here's a bit of info about Italian mortgages & insurance, worth having a look!

And we're happy to affiliate with TransferWise as their reputation for reliable & low cost money transfers is excellent & highly recommended!
At any rate, this is a lovely little village house that can tick all the boxes, so click here for more details & agency contact details. Best of luck!