€420k Exceptional House for Sale in France, Caudebec en Caux, Seine Valley, 76, with breath-taking views over the Seine. Just 1.5 hours to Paris, this is a perfect holiday & weekend home in France.

This authentic 'columbage', half-timbered & chaumiere house is  located close to shops and services, and is just 40 minutes from Rouen or le Havre, right in the middle. This really is a wonderfully located property, with perfect potential for your retirement in France dreams!  It's retained loads of charm and authenticity in its 4 bedrooms, while affording all the conveniences & niceties.
Each room brings more sighs than the last, with the view of the river, the cornices, the fireplaces, the sympathetic décor and colors and the spaciousness. The kitchen is perfect, with its brick fireplace, opening into the
Dining room with its high ceilings & views & nicely tiled floors and…. that fireplace….
The terrace runs the full length of the house, affording…. did we mention the views over the Seine? Of course we did… The tall windows across the entire front of the house don't hurt either.
and we seriously love the colors throughout the house, that echo the river & the sky…
There are 4 bedrooms, including a master suite with its private shower room, an office and a bathroom.
To complete this perfect home, there is a massive attic and a vaulted cellar under the whole house; it has oil central heating and has mains drainage.
The house has an independent garage of 36 m², garden buildings, a greenhouse, a plot of 4900 m².
You can rest, stroll, admire the landscape, from the balcony terrace overlooking the Seine, in a warm and holiday atmosphere.
The town of Caudabec played a major role since even before the 1300's, and the town continued for centuries at the forefront of history in France, as a river town and with its proximity to the mighty Atlantic. Some of the impressive ramparts the old fortifications which protected Caudebec still remain and these two towers date from the 14th and 15th centuries.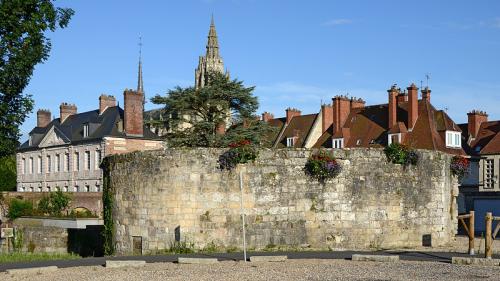 Its provenance went back and forth being claimed by both France and England over the ages, with Henry V seizing it in 1415. (France got it back though) It remains a gorgeous town, with its historic architecture.
A couple centuries ago, the town was famous for its hats & gloves, among other things, apparently due to its industry, it wasn't a nice smelling town at all..

With its advantageous position on the Seine, Caudebec en Caux was a prime target during World War II, and yet she was rebuilt & restored beautifully. This lovely, historic town now provides a super mix of modern & old, historic & new.
How easy is it to buy property in France as a foreigner?
Check out our article on 'how to buy property in France as a foreigner", for more information. There are currently no restrictions on foreigners buying property in France, however, you may find the process a bit more difficult as a non-resident. This is France, and that means a lot of paperwork and due diligence.
If you're working with a real estate agent, the process is likely to be relatively straightforward. But you'll still need to make sure you read up on what taxes you'll need to pay, and any visas needed so you can live in your new French home once you've bought it. Thankfully, in this digital & social networking age, you can prepare yourselves in advance with the wonderful, thorough and diverse social media groups & websites that now exist and are proliferating on the web. 
To get a head start on the details of moving to, living and buying a property in France, be sure to check out our page with many helpful links to websites & Facebook pages dedicated to precisely those topics. 
Whether you're seeking knowledge & info about literally, how to buy a property in France, or you need to know about taxation, or you're needing information on securing & using your Carte Vitale, we've got the links, so check them out.
Buying property in France after Brexit
Even though the UK has now officially left the EU, as a UK citizen, you'll still have the right to buy property in France as a non-EU citizen. You can even rent it out if you want to.
However, you will now need to make sure you have a long-stay visa if you plan to stay in France for more than 90 days at a time.
Can I buy property in France and get residency?
Unlike some other countries, France doesn't have a 'Golden Visa' or other investment scheme for property purchases. This means that for UK citizens post-Brexit, although there aren't restrictions on foreigners buying property, you'll now need to go through the same process as any other non-EU citizen to get a visa to live in France – and then to apply for permanent residency if you're eligible.
Ready to Buy that Dream Home for sale in France? It's all about the money, money, money…
Check out our links for general information on mortgages & insurance, and don't forget that you'll have to move your money between countries. 
For the consistently best rates & lowest transfer fees, we highly recommend Wise (formerly known as TransferWise) to move your funds safely & efficiently across borders.
Millions of happy customers can't be wrong! Have a look at their excellent rates & wide range of services for banking and moving your money abroad so you can securely & confidently buy that property or dream house you've been looking for!

Here is the link to the agency listing with more information, photos & contact details. We always recommend calling, not emailing, until you reach someone directly.