€480k for this lovely, beautifully restored Villa For Sale in Tuscany. Your Italy Dreams really can come true!
In the heart of Pistoia, Tuscany & immersed in the beautiful green hills, this stunning two levels classic 1800's stone farmhouse for sale in #Italy gives you about 200m² and is beautifully & completely renovated. It really is the embodiment of the #Tuscan dream!
A statement entry
kitchen with pantry & adjacent covered terrace
dining room
living room
and bathroom with laundry room.
The first floor 3 double bedrooms one of which is a mezzanine and one with a walk-in closet it is possible to install an en suite,
The single bedroom,
master bathroom
.
This property also includes several outbuildings, including yet another 60m² dependance over 2 floors to be completely restored.
The lovely & well kept, verdant gardens have a number of secret seating
& dining areas
shaded niches & sunny paths overflowing with native & cultivated flowers…
and a total land area of 2,000 square meters!
Tuscany is known for its verdant & dynamic landscapes, its ancient history, artistic legacies & its timeless influence on high culture.
As the birthplace of the Italian Renaissance it is home since time began to many figures influential in the history of art and science & is the home of well-known museums such as the Uffizi, the Galileo & the Pitti Palace.
At the heart of Tuscany is Florence, around which it seems all things great & glorious revolve, like the planets to the sun.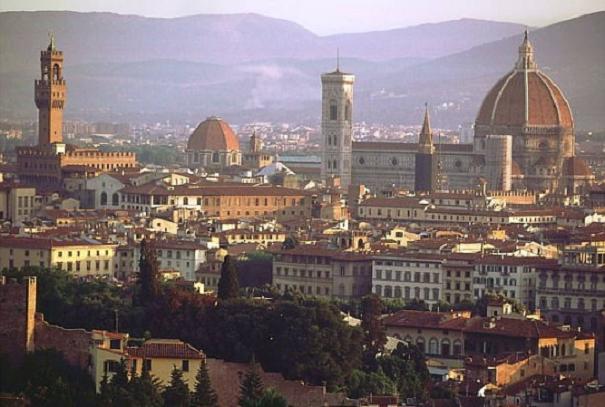 Art, music, literature, textiles, marble, architecture, jewelry, wine, phenomenal food; thousand year old villages, historic dynastic families reaching back countless generations into history, such as the Medici, Corsini & Donati, not to mention the spectacular cities such as Siena, Lucca & Pisa… all worthy to note, to enjoy, to revel in, to live, to visit & to appreciate.
Money, Mortgage & Insurance in Italy
Some of the first questions you should have as you go about your search for that perfect vacation home in Italy should involve mortgages  & insurance and pretty darned importantly, transferring monies to your new local Italian bank. We highly recommend Wise (formerly TransferWise) as your go-to international money transfer broker. They've got a great reputation as being easy, cheap, reliable and with the best rates in the business. Have a look!
And as you get further into your 'oh honey, let's move to ITALY!" dream, or that 'let's retire in Italy' dream home, you should also be thinking about mortgages in Italy & 'what about insurance in Italy?'  Have a look at our links to get you started in the right direction!
This listing is found here on FACEBOOK, and here is the telephone to speak (Italian) directly with the agency TEL 3289284880 ANGELO