€70k Village House for Sale in Tuscany! Roccastrada, Italy, in a lovely medieval village, in the heart of #Tuscany. By private sale only (no fees!). All renovated, with a private terrace & ready to move in! An hour to #Siena, less than an hour to the beaches & ports of the Med! This is perfect for your vacation home in Italy, and will make an excellent holiday rental investment in Italy proposition as well, especially at this price.
This is a nicely remodelled & restored 107m², 2 bedrooms village apartment for sale in the heart of Tuscany, done up with quality fittings & sensibility & neutral enough for you to easily add your personal décor & touches.
This 2 bedrooms apartment for sale in Tuscany is set on two levels, completely independent and recently renovated.
There's a large entrance hall leading to all the rooms. With tiled floors throughout, it's a completely neutral palette for you to reimagine your dreams of living the Tuscan dream.
The bathroom is huge & the spacious kitchen is a blank slate, with wood stove and separate laundry & pantry. High ceilings throughout.
.. and.. holy moly, check out this terrace with amazing, panoramic views for those hot summer days & cool summer nights….
There is a secured cave and your own private lock up & leave 18 sqm garage and private outdoor parking space. You have to ask yourself, what does this place
not
have?
All the rooms have windows, there is a completely new electrical system, ready for to split, if you decide to create a studio of the cave area. Wow….
Included in the price are the furnishings you see, which can get you started!
Shops, bars, restaurants, grocery, church, post office, and many other services within easy walking distance.Around; Sports field, forest, river and many other places where you can practice sports, or take a nice walk surrounded by nature.- Looking out to the kitchen on the Castle.
Possibility of creating a French window in the kitchen, thus making the upper part autonomous of a new access, possibility also of creating a studio apartment in the lower part, also with totally autonomous access.(Possibility to also buy agricultural land of 4,000 square meters a few steps from the house with water well, electricity easily connected.
Roccastrada is a comune in the Province of Grosseto in the Italian region Tuscany, located about 90 kilometres south of Florence and about 25 kilometres north of Grosseto, between the Maremma plain and the Colline Metallifere. It's a simple yet oddly elegant medieval town with its provenance trading hands over and over since the Etruscan times. This is a picturesque town of subtleties. The discrete architectural elements, and what everyone is always asking about…. the famous Roccastrada Potato festival – the
Sagre della Patata
.
Around the last weekend in July – from a Friday to a Sunday night – the whole town is out for the "Sagra della Patata" – three nights of home-cooking all based upon the potato with a live band one night, a disco on the Saturday night, and then an orchestra on the Sunday playing in Piazza Garibaldi. Is that living the Italian life or what?
There is also a fabulous little "wine & vine" museum in the village, Museo della vite e del vino in Piazza dell'Orologio, on the ground floor of the building adjacent to the clock tower.
The Museo della vite e del vino in Piazza dell'Orologio is not to be missed…. seriously… its rooms were originally a "cantina (cellar) carved out of the bedrock upon Roccastrada sits. It has a rich fabulous perspective of the wine culture there in the heart of Tuscany, centered around learning of the art and local history, rather than getting sloshed (not that there's anything wrong with that).
We particularly appreciate the subtleness of the local Le Falene Rosato, the famous Rosé wine from Tuscany that pairs wonderfully with summer foods, especially fish, and of course, pizza.
It's just a small production, usually around 1000 bottles, so it's a real treasure if you can find it. It has an elegant bouquet of fine herbs, white flowers and a spicy, peppery note with a good complexity, structure and persistence, with freshness and balance.
It's quite nice on the palette, and perfect for sitting on that terrace here, looking out of the rooftops & Tuscan hills….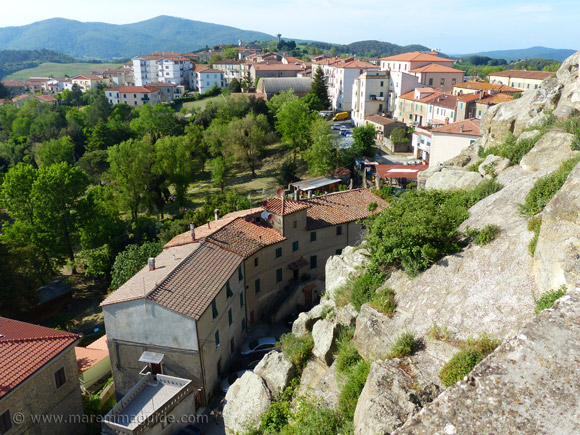 There's a lot going on here, there's new life in this village, and it's a place to live, thrive & grow….
Now that you've fallen in love with Tuscany, what are the steps to buying a property as a foreigner?
While the steps to buying a home are similar anywhere, use this list as a guide to get started in your Italian property purchase:
Look into a mortgage. While most Italian banks will lend to foreigners, it's smart to get an idea of just how much they're willing to lend before you get started. The smaller properties, such as this, however, will always only be a cash option.

Normally one will engage a realtor, but in this case, you'll both work with the Notario. Whether you're working with a realtor in your home country or in Italy, using an agent is usually the best way to get a good deal and see properties that are well-suited to your needs. In this case, it's a private sale, so it will be much easier & straightforward.

When using an agency, you'll of course choose a property and make an offer.

Get a sale contract. This will need to be drafted, looked over and stamped by an Italian notary.

Sign the contract.

Pay taxes.
In many cases, buying a property in Italy takes around six months – although it could be more or less. This is Italy, and that means a lot of paperwork and due diligence.
If you're working with a real estate agent, the process is likely to be relatively straightforward. But you'll still need to make sure you read up on what taxes you'll need to pay, and any visas needed so you can live in your new Italian home once you've bought it. 
Thankfully, in this digital & social networking age, you can prepare yourselves in advance with the wonderful, thorough and diverse social media groups & websites that now exist and are proliferating on the web. To get a head start on the complications of moving to, living in and buying a property in Italy, be sure to check out our page with many, many links to websites & Facebook pages dedicated to precisely those issues. 
Whether you're seeking knowledge & info about literally, how to buy a property in Italy, or you need to know about taxation, or you're needing information on securing & using your 'Tessera Sanitaria' we've got the links, so check them out.
Also check out our page on 'Buying a property in Italy as a Foreigner' with helpful links and current information that can get you started on your way!
Ready to Buy that Dream Home for sale in Italy? It's all about the money, money, money…
Check out our links for general information on mortgages & insurance, and don't forget that you'll have to move your money between countries. 
For the consistently best rates & lowest transfer fees, we highly recommend Wise (formerly known as TransferWise) to move your funds safely & efficiently across borders.
Millions of happy customers can't be wrong! Have a look at their excellent rates & wide range of services for banking and moving your money abroad so you can securely & confidently buy that property or dream house you've been looking for!
Here is the link to this PRIVATE SALE FB listing with more information, photos & contact details. We always recommend calling, not emailing, until you reach someone directly.
You can also reach this gentleman directly at 331 838 9049 and you'll be speaking with Ronny Medina.