€80k for this Magnificent Village Chateau for Sale In France — near Avignon & Montpellier! This Historic Village Center Chateau for sale in Provence has 320 m2 of living space with cellars, attics & its workshop.
You'll need that workshop for the restoration & renovation of this wonderful piece of French cultural history.
Located near the villages of
Saint Jean du Gard
, this old Maison-Forte, massive and solidly placed on its rocky base, is one of the last of its type of building, characteristic of the
Cévennes
.
Built at the end of the 16th century, at the beginning of the 17th century, this imposing residence stands at the southern entrance to the village and is spread over 4 levels.
It is probably the work of a "country gentleman", in particular a silk manufacturer & merchant with a high local status. Construction would have taken place in 3 major stages, in the 17th, 18th and 19th centuries, around an older primitive hearth, certain elements of which remain in the eastern part.
With a certain austerity, with its flat gray-brown shale facings, with its defensive elements such as watchtowers and gunboats, with its almost blind ground floor of openings, it still testifies to the defensive preoccupation of this period in the difficult context, marred religious and political unrest. However, the facades are enlivened by the number and elegance of the openings, of large proportions, with cross mullions or single crosses. Every room is graced with beautiful beams & elegant architectural elements.
Note also the care taken in the chamfered and often molded frames of the smallest openings, from the large window to the loophole, and the lighter shade of the material used (limestone or sandstone) which gives a lot of character to the entire composition.
Certain windows on the street side, modified in the 19th century, might benefit from finding their original cross-opening.
Access to this house is via a large keyed door whose solid two-leaf carpentry is still present, adorned with its wrought iron knocker ring. A large entrance leads to several fully vaulted rooms paved with large slabs of black schist.
The staircase, of the ramp-on-ramp type, except in its first steps, serves the floors up to the attic. The 1st floor is devoted to the reception and the pageantry.
It has 6 living rooms including 3 major rooms, the large living room, bedroom and anti-bedroom, with superb 18th century decorations.
The second floor bedrooms have the same layout as the 1st floor and has retained its original decorative elements including the monumental fireplaces, mouldings, cornices, floors & French ceilings.
The attics, including the former 19th century silkworm farm, largely convertible, extending over the entire surface of the chateau. This house, with a surface area of ​​320 m2 plus the 160 m2 of cellars and workshops, requires complete room by room restoration. We think at this price, and with the diligence in securing tax breaks & grants, it can absolutely be worth it.
Nevertheless, the interior requires a restoration carried out sparingly, considering how much original details remain. Sympathy & practicality must rule this project.
The house does not have a garden, because frankly, you'll have enough to do on the interiors, but benefits from being just steps to the surrounding nature. You just have to cross the street, walk 40m to find yourself in the countryside.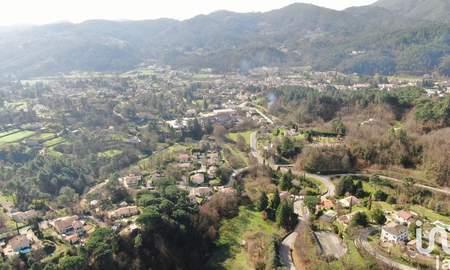 The presence of many hiking trails & nature activities nearby are yet another asset of this well run, lovely town, with a good quality of life!
Finally, Listed as Historical Monuments, elevations and roofs, it rightly claims financial aid and tax exemption from the ISMH system. 
There are a number of advantages to buying a property that is listed as a Monument Historique:
The organisation offers invaluable advice and assistance in the restoration and upkeep of historic properties.
Under certain conditions these properties can be exempt from Inheritance tax.
There are a number of grants available for improvement works (subject to certain conditions).
Costs for various works, insurance, land taxes and certain interest charges on loans are currently deductible, at 50%, from your taxable income.
However, they become 100% deductible if you open the building to the public for a set number of days a year. And, on the condition that the property is kept for at least 15 years by its owner (being an individual or SCI "de Famille").
This asset will help the purchaser to carry out his project, to restore its luster to this building of great architectural quality, one of the last witnesses of this era.
Ready to Buy that Dream Chateau for sale in France? It's all about the money, money, money…
Check out our links for general information on mortgages & insurance, and don't forget that you'll have to move your money between countries. 
For the consistently best rates & lowest transfer fees, we highly recommend Wise (formerly known as TransferWise) to move your funds safely & efficiently across borders.
Millions of happy Wise customers can't be wrong! Have a look at their excellent rates & wide range of services for banking and moving your money abroad so you can securely & confidently buy that property or dream house you've been looking for!
For more information on this glorious Chateau for sale in France  & photos & to contact the agency, just click here.