Are you thinking of Investing In France? Now is as good a time as any. Whether you're looking to retire in France, or for that perfect Gites in France project, property prices in 2022 are still excellent in many places.
Mulhouse, France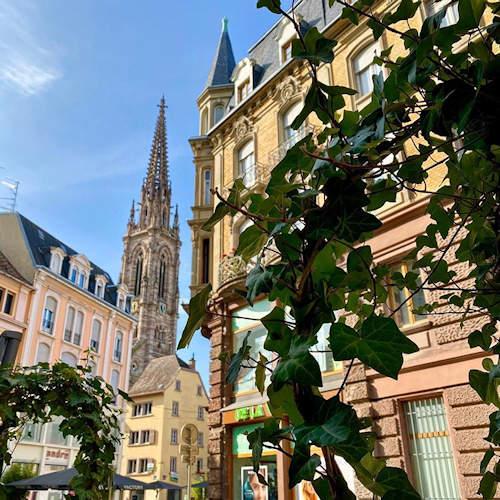 Mulhouse in the Alsace region of Eastern France, is a town with surprisingly cheap property prices. As such, it provides excellent prospects for property investment in France.
Mulhouse is a fairly large town with a population of around 280,000 people, including the sub-urban districts. It is also one of the 'youngest' towns in France, with over 40% of the inhabitants aged under 30.
It is a fairly pleasant town, with strong links to nearby Germany and Switzerland. The local international airport close to Mulhouse (Bâle-Mulhouse-Friborg (EuroAirport)) serves travellers to each of the 3 countries. In terms of general earnings in France, the average wage rate in Mulhouse is high and the local inhabitants are able to enjoy low housing costs. The average price for apartments in Mulhouse in 2020 is just €1,140 per m2.
Property prices fell by -0.5% in the 12 months to Q1 2021, although there was a strong bounce back in Q2 2021 (of +9.8%).
Ready to Buy that Dream Home for sale in France? It's all about the money, money, money…
Check out our links for general information on mortgages & insurance, and don't forget that you'll have to move your money between countries. 
For the consistently best rates & lowest transfer fees, we highly recommend Wise (formerly known as TransferWise) to move your funds safely & efficiently across borders.
Millions of happy customers can't be wrong! Have a look at their excellent rates & wide range of services for banking and moving your money abroad so you can securely & confidently buy that property or dream house you've been looking for!
Caen, France
The port-city of Caen on the Normandy coast, could be quite an interesting place to invest in property in France.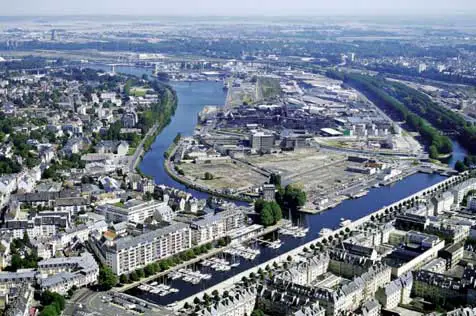 Caen appeared at #9 on the list of Best cities to live in France and was described by L'Express magazine as
" . . . the cultural and intellectual capital of Normandy, with one of the oldest universities in France, retains its aura for economic & cultural dynamism . . ."
During 2020 property prices in Caen increased rapidly.  In the 12 months up to October 2021, house prices rose by +14.3% after the Covid lock down, bringing the average sale price up to €240,000. Apartment prices also increased in Caen, although by a much more modest +5.9% to stand at an average of €2,170 per m2.
Caen is quite a modern city, with a lot of its buildings being constructed after the Second World War. The nearby Normandy beach landings led to intense fighting in the city and much of the old town was destroyed. The city does provide a convenient base for exploring some of the more picturesque coastal towns of Deauville, Trouville and Honfleur. The updated French Property report for October 2021, showed a strong bounce back in prices for both apartments and houses.
Nimes, France
The small city of Nimes in the South of France was a former Roman garrison town and has some beautiful Roman monuments, including a fully intact amphitheatre and the old market forum. Nimes has its own local airport (served by Ryanair flights to UK and Brussels) a TGV train station and the A9 motorway runs right past the city. Nimes is also the gateway to Provence and the beautiful Cevennes region.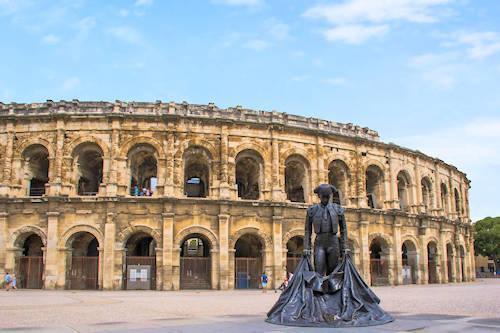 Nimes is just 50 kms north of Montpellier, but despite a similar transport infrastructure, old architecture and relaxed way of life; the two cities could not be more different.
Property prices in Montpellier have powered ahead in recent years as more and more people look to move to the city. Montpellier has become the 7th largest city in France – it was the 23rd biggest urban area in France in 1977 and it has virtually doubled in size since 1960. In 2021, property prices in Montpellier increased by +8.0% and an average house will cost around €329,000. In comparison, a similar house in Nimes will only set you back only €216,200. The Square meter price for apartments in Montpellier are currently running at €2,860 m2, whereas in central Nimes, you can buy an apartment for €1,820 per m2.
As property market in Montpellier will eventually begin to over-heat, the city of Nimes could be worth a look at.