So if you are still working, where is the best place to live in France? You need a combination of higher than average wages, plenty of jobs, an international scene, plenty of things to do and see, cheap accommodation and a good transport network.
L'Express magazine recently ran a survey on the best cities and towns in France to move to for work. The overall winner, just narrowly ahead of Rennes, was the city of Nantes. It is interesting, that both these neighbouring cities in the West of France, featured in the top 2. In many ways their recent history follows a similar path.
Both have experienced rapid increases in their population. Nantes has doubled in size since the 1960s and it is now the 6th biggest city in France. The area of greater Nantes is forecast to reach 1 million inhabitants by 2030. The population of both cities is also very young. We have seen above that Rennes has a strong student population, but in Nantes the population under 30 years is over 45%.
Situated on the Atlantic Coast, only 2 hours from Paris, Nantes was ranked just behind Paris and Lyon in a Worldwide Ranking of the Most Connected Global Cities carried out by the GaWC Think Tank in 2018. Nantes was rated higher than Strasbourg, Toulouse and Montpellier for its openess to international business and the global reach of its companies. This is perhaps not a surprise given its history as an important French port, but it still outranked both Bordeaux and Marseille.
SOURCE: GaWC Global Cities
Nantes is the main business city in the West of France. It has a large Agri-food sector (25% of the agri-food jobs in France are located in Nantes and many of the leading manufactrurers are based in the city: Biscuits St-Michel, BN, Charal, Eurial and Fleury Michon). It is an important centre for Engineering. It is home to one of the finest Engineering Schools in France (École Centrale de Nantes) and it has numerous leading companies in the fields of biotechnology, Composite materials and Gene therapy. Airbus has a large production site in Nantes, employing over 5,000 people.
Nantes was designated by the French government as a Tech Hub for the digital industries sector and other creative industries. Over 1,000 jobs per year are created in the digital sector alone and Nantes has one of the highest number of business start-ups in France.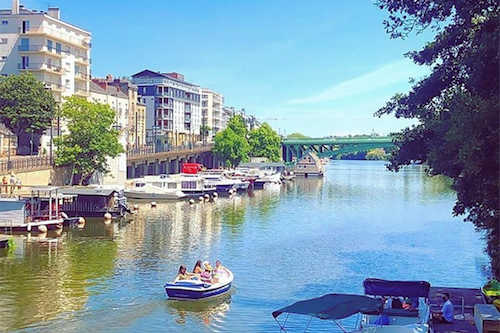 Nantes also has a strong tourism sector and it receives over 2 million visits per year (making it the 7th most important French tourist city).
In the centre of Nantes, the last 20 years has seen an incredible amount of regeneration. The Île de Nantes is a large island located in the Loire river in the centre of Nantes and its former docks and warehouses have been transformed into an important business district, commercial centre and area for new housing. There is a Quartier de la création, which is a district dedicated to activities related to e-commerce, software publishing, VR technology and robotics. It is also the new home to the School of Fine Arts and the School of Design.
During 2021, house prices in Nantes increased by +10.3% to stand at an average sale price of €320,000, well above the average for Western France. Similarly, the average price of apartments in Nantes increased by +13.7% to €3,520 per m2.
According to the international Relocation company, Cadogen Tate, Nantes has a well-earned reputation for:
". . . offering an exceptionally high quality of life, a strong jobs market across a wide range of different fields and good salary prospects with a relatively low cost of living . . ."
The website TravelTables – Nantes rates Nantes as "affordable". With an average monthly net salary of €1,708 and an average rent of €696 per month (1 bed apartment), it calculates that the average monthly cost of living is €1,209 (covering House Rent + Food shooping + Restaurants + Utilities + Transportation + Entertainment).
Among the other cities in France to feature in the Top 10 places to work, were the following:
Toulouse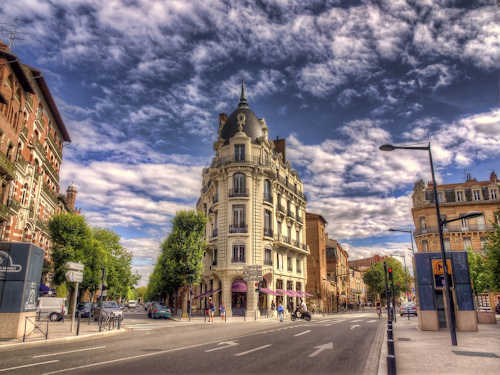 Toulouse is the 4th largest city in France, with just under 500,000 inhabitants. It is a very pretty place, with the wide Garonne river flowing through the middle of the city and the red brick buildings in the centre (giving it the nickname of la ville rose) have hardly changed in the last couple of hundred years. Because Toulouse hasn't followed the path of other large cities in France of building large shopping malls, the centre of the city has retained much of its character, with narrow cobbled streets and plenty of shops, bars and restaurants.  It has a great transport system and it has a real international feel to the place. There is a great bar culture in Toulouse (more pubs than cafe bars) and you'll always bump into Americans, English, Irish people, Brazilians, etc.
Toulouse is also a great sports city, with both a good rugby and football team as well as a professional basketball and handball team. It also has the most sports facilities of any French city.
Toulouse has a number of prominent Universities, it is the European centre of the Aerospace industry (Airbus) and it is often ranked as the most dynamic French city for business. Toulouse featured at #6 in the list of Best French cities to work.
Bordeaux
A bit like Lyon (which was voted #3 in the list of best French cities to work in), Bordeaux has a real reputation in France as being a serious business city. Obviously, Bordeaux made its wealth on the back of the wine trade and its port. But Bordeaux is not just about wine today.
Bordeaux has forged itself as a strategic hub for the aeronautics, military and space sector. It is home to such companies as Thalès, the Ariane Group and Dassault Aviation. It is also a major university center with 100,000 students within the Bordeaux region.
There are some beautiful buildings and squares in the centre of the city, the shopping is really good and you won't ever have a bad meal there.
The countryside surrounding Bordeaux is really pretty. Be sure to visit Dune du Pilat on the Atlantic coast, which is a massive sand dune (and I mean massive) and the very pretty town of Libourne, which is about 20 kms from Bordeaux.
Bordeaux was voted as the 5th best city for working in France, according to the L'Express survey.
Clermont Ferrand
Ready to Buy that Dream Home for sale in France? It's all about the money, money, money…

Check out our links for general information on mortgages & insurance, and don't forget that you'll have to move your money between countries. 
For the consistently best rates & lowest transfer fees, we highly recommend Wise (formerly known as TransferWise) to move your funds safely & efficiently across borders.
Millions of happy customers can't be wrong! Have a look at their excellent rates & wide range of services for banking and moving your money abroad so you can securely & confidently buy that property or dream house you've been looking for!
Clermont Ferrand

Clermont is known throughout France as the home of Michelin tyres. It is not a particularly big town (in 2021 its population was 144,000, making it the 24th biggest city in France). The surrounding countryside of the Auvergne region is very beautiful, especially the Puy-de-Dôme area.
Aside from Michelin, which still employs some 13,000 people in the town, Clermont is also home to the big pharmaceutical company Merck-Sharp-Dohme (MSD).
Also, because of its location right in the centre of France, Clermont has traditionally attracted a number of administration centres for some of the big French institutions (the Banque de France has its Printing Centre located in the town, Clermont is also home to the National Training centre for the police and there are various Tax and Public administration centres).
Clermont Ferrand is quite an affordable place to live, with property prices quite modest compared to the rest of France. You can buy an apartment in the city for around €1,690 per m2 (so €50,000 for a 1 bed apartment and €85,000 for a 2 bed apartment). The average house prices in 2021 were around €200,000. Average salaries in Clermont Ferrand are quite healthy at around €43,000, which is above the national average of €39,099.
SOURCE: L'Express – Le palmarès des villes où il fait bon vivre et travailler