In fact, What IS Aperol?
You're sitting on a sunny, hot terrace in the middle of Florence, tired from walking the endless streets & gorgeous museums; you're overwhelmed by the sights, sounds & scents of Florence & you see it sitting on the next table…. that bright, vivid orange color, ice cubes floating in a huge wine glass… What on earth is that?
In Italy, the #Aperol Spritz is typically an afternoon or pre-dinner iced drink sipped with snacks & occasionally garnished with a green olive to make a 'Venetian Spritz'.
The brilliant orange color is unmistakable — once you've had it, it calls to you — a vibrant, bright orange that lights up your table & adds joy to the moment.
Everything else is brought to the table by the inner light hearted spirit of the Aperol Spritz, the spirit that makes people spontaneously come together & sparks nothing but good times & great memories.
Aperol matches perfectly your Aperitif Moment. 
Your 'aperitif moment' becomes perfection when enjoying  Aperol Spritz with delicious snacks & classic Italian appetizers.
Aperol Spritz served with traditional snacks called "cicchetti": small tapas-type snacks that include tiny sandwiches, dishes of olives & small portions of local specialties, meats & cheeses.
For over 100 years, Aperol Spritz has been the staple of summer Italian society. A versatile, refreshing drink, suitable with different types of food & moments, from a quick toast after a long day, to those relaxing brunches we love late on Sunday morning & maybe stretching into the afternoon, broken by cooling dips in the pool or wading into the surf of the sea.
Well, what exactly is Aperol? Aperol is a classic Italian bitter apéritif made of gentian, rhubarb, and cinchona, among other ingredients. It has a vibrant orange hue, which is now always associated with the hot Italian summers. Its name comes from the Italian slang word for aperitif, which is 'apero'.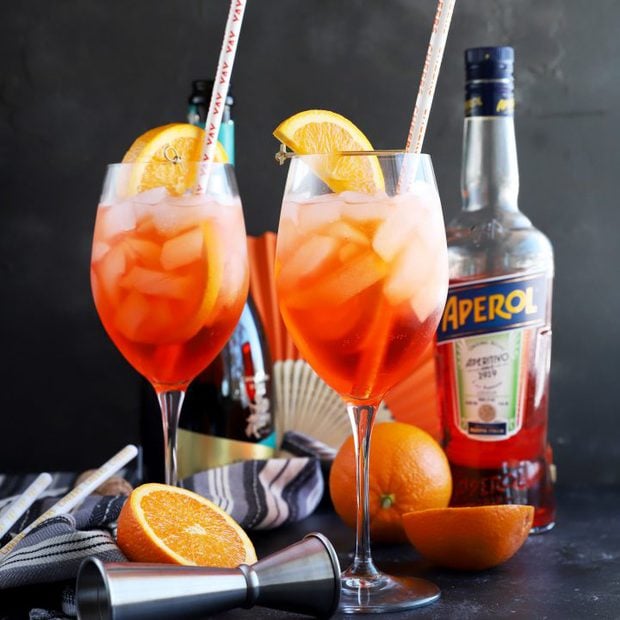 Aperol
was originally produced by the Barbieri company, based in
Padua
, but is now produced by the 
Campari
 Group. While Aperol was originally created in 1919, by Luigi and Silvio Barbieri,
it did not become successful until after World War II. Although it tastes & smells much like Campari, Aperol has an alcohol content of 11%—less than half that of Campari. Aperol & Campari have the same sugar content but Aperol is less bitter in taste. Campari is also much darker in color.
Aperol debuted in 1919 when brothers Luigi and Silvio Barbieri inherited their father's liquor company in 1912. After seven years of experimentation, the brothers debuted the bold, technicolor tipple Aperol, inspired by the French term for apéritif: "Apéro." The original recipe, which is still in use today, remains a secret, but includes both bitter and sweet oranges as well as rhubarb.
This now timeless & classic summer beverage grew in popularity throughout the mid century but it wasn't until the '50s that the official recipe for the Aperol spritz was born.
The sip was a hit in its native Italy as an aperitivo—a sort of light, pre-dinner drink meant to refresh you from the day & get your appetite in gear for the evening.
So, while you're sitting on a shady terrace after a long day of viewing properties, discussing a mortgage, thinking about insurance, and before you head off to the grand casino in Venice, indulge in that tasty, refreshing Aperol, like a local….
Cin–Cin!